The Typical Successful Career Starts with Rejection
Moritz Hardt posted a tweet the other day saying "It's that time of the year to keep in mind that the typical start of a successful academic career is getting rejected from a bunch of good grad schools." Lots of people replied about how their own failures did not stop them. This post is my own response.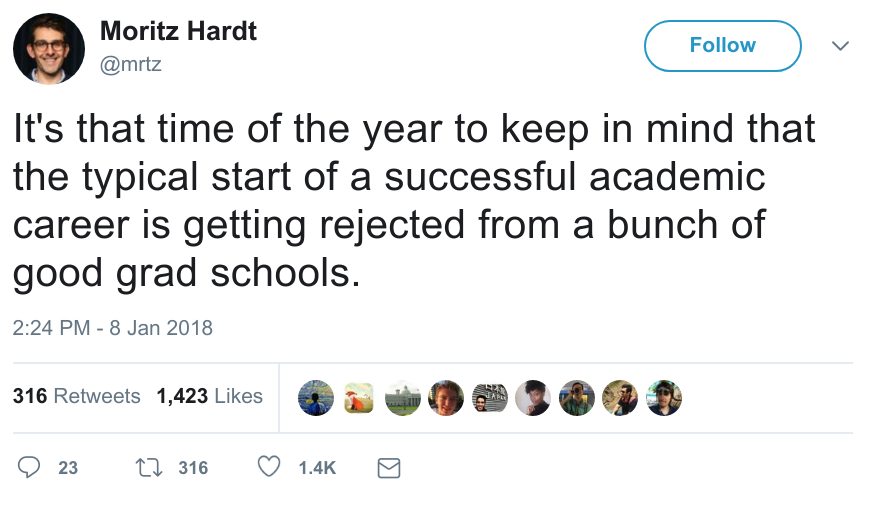 My story is a little different than Moritz's. I do not have an academic career, I was rejected, not by a few good grad schools, but by all of them, and yet, I am happy with where I ended up.
To Grad School
I wanted to be a Physicist since I was fourteen, so I knew the path before me: BA, PhD, professor. As I finished up my BA at Berkeley, I started preparing for the GRE. But test anxiety caused me to study poorly, and ultimately my test results were terrible. None of the graduate schools I applied to in 2008 accepted me.
I tried again in 2009. Not the GRE, since thinking about it brought even more anxiety than the first time, but simply applying once again to various graduate schools. Thankfully, the University of Minnesota (and more specifically, the too kind Yuichi Kubota) looked past my test scores and gave me a spot. I wasn't the only person he gave a chance to, but I'm thankful that I was one of them.
And Onward
I graduated from grad school in 2015 and went to Insight Data Science. From there I got a job doing machine learning at Lab41, where I published a paper (arXiv) and spent two great years learning from my brilliant coworkers. Now, I lead a data science team at Intuit. Failing to get into graduate school in 2008 was crushing at the time, but it taught me that everyone falls, and sometimes they just need a bit of a hand to get back up and on their way.